What are Calico Critters?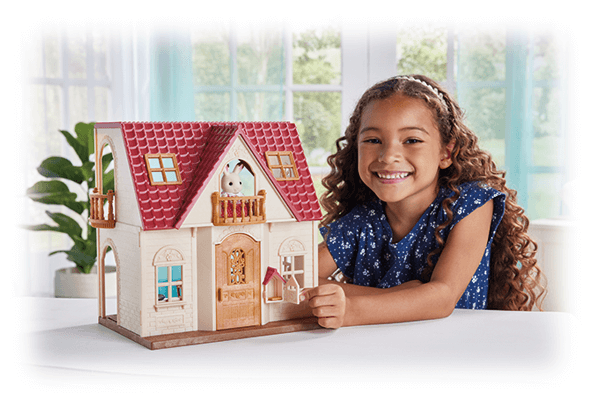 Calico Critters is a line of miniature animal figures, with homes, furniture and accessories. The animal figures are unique because they are made of a special flocked material that gives them an endearing quality. They were introduced in Japan in 1985 and are distributed worldwide. Calico Critters are sold as families, with Mothers and Fathers, sisters, brothers and babies. The homes and furniture are quite life-like are have incredible detail. The Critters live in the community of Calico Village. All the citizens in Calico Village have hobbies and jobs. The underlying theme is giving, friendship and happiness. Calico Critters are wholesome, never trendy.
Calico Critter Brand Statement
Calico Critters of Calico Village are timeless, classic toys that delight children and promote wholesome family values. These award-winning miniature animals and their life-like environments have inspired the imagination and creativity of countless children all over the world.
Why Buy Calico Critters
Wholesome
Calico Village is a happy place, surrounded by all the beauties of nature. Every critter has a special role in the community- just like the real world! Calico Critters reinforce traditional values of family, friendship, sharing and togetherness.
Unique Designs
Calico Critters are designed with remarkable attention to detail. The critters are fully poseable and are made using a unique soft-flocking process, which gives their "fur" a smooth, velvety texture. All are dressed in outfits designed for each individual character. Their homes, furniture and accessories have lots of functioning parts and real-life detail.
Loveable & Collectible
The Calico Critters brand has won several awards, including the Oppenheim Toy Portfolio Platinum Award. Adorable new families and environments continue to be introduced every year, and Calico Village remains a magical world of imagination for collectors of all ages.
FAQ
Q1.
There are so many things to choose from, what should be my first Calico Critter purchase?

It depends on the age of your child, but in general the best entry level item is the Cozy Cottage home which comes with some furniture and Freya Chocolate critter. Once the child is ready for more detailed play pieces, there are lots and homes and furniture sets to choose from.
Q2.
Can Calico Critters clothing be removed? Are there other outfits available for purchase?

Yes, all the clothing can be removed and since there are basically 3 size critters (Parents, children and babies) a lot of the clothing can be shared amongst the critters.
Q3.
Are there other types of Calico products I can buy for my child – books, puzzles, etc?

If you visit our website, www.calicocritters.com, you will find coloring and activity games for your child to play. These are free. We do not presently sell books, puzzles or the like.
Q4.
Where can I buy Calico Critters?

Q5.
Do you have any Calico Critters Mascot Event in my area?

We have several Mascot Events throughout the United States and Canada each year! This is your chance to Meet your favorite Calico Critter, enjoy fun activities, and win free prizes! For a complete list of events click here
https://www.facebook.com/CalicoCritters
Q6.
Have any Calico Critter products won awards?

We are proud that the Calico Critters brand has won several awards throughout the years.

Learning Express Best Pre-K Toy of the Year 2005
Tdmonthly - Classic Award 2007
TDmonthly Top Seller Award 2010

Baby's Love 'n Care Set:
Creative Child Magazine - Seal of Excellence 2008

Britney Bunny's Ballet Recital:
Creative Child Magazine - Preferred Choice 2009

Country Tree House:
ASTRA's Best Toys For Kids! -Pretend Fantasy Play Category 2010
Oppenheim Toy Portfolio - Platinum Seal 2010
Iparenting Media Award 2010
Tillywig Top Fun Award 2010
PAL Award 2010

Cozy Cottage:
Creative Child Magazine - Seal of Excellence 2010
What the Stuff Toy Review- 5 out of 5 stars 2010
NETS Gold Star Winner 2010
Melanie and Sparky Have a Play Date:
Mom's Choice Award - Silver Seal 2009

Tea Cup Ride:
Creative Child Magazine - Seal of Excellence 2008

Luxury Townhome:
Oppenheim Toy Portfolio - Platinum Seal 2006

Willow at the Horse Show:
Creative Child Magazine - Preferred Choice 2008

Yellow Labrador Family:
Oppenheim Toy Portfolio - Gold Seal 2011

Friesian Cow Family:
Oppenheim Toy Portfolio - Gold Seal 2011

Caravan Family Camper :
Oppenheim Toy Portfolio - Platinum Seal 2011
Dr. Toy Best Vacation Children's Product 2011
ASTRA's Best Toys For Kids 2011
Creative Child Magazine - Preferred Choice 2011
NETS Gold Star Winner 2011