Calico Critters Nursery Series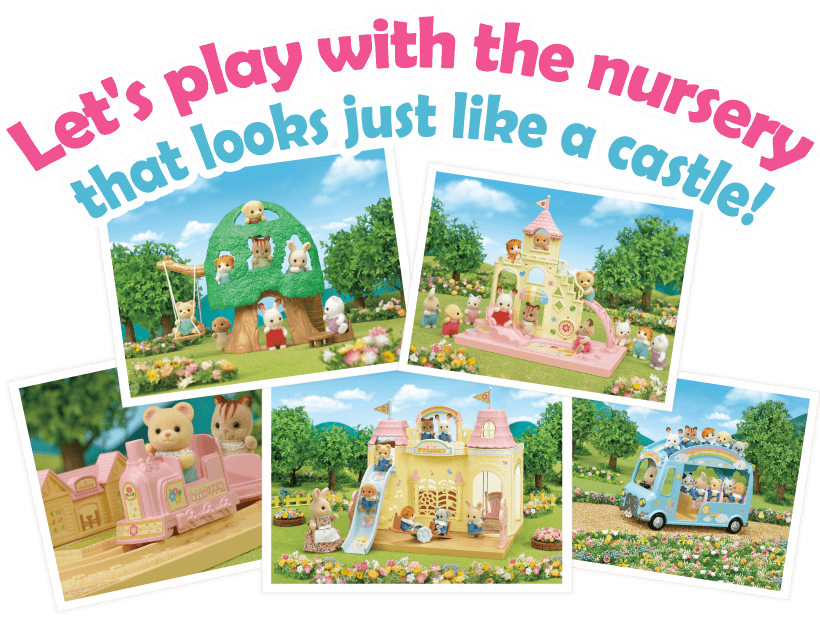 There is a new nursery in Calico Village, where all of the Calico Critter babies play! You can enjoy lots of fun activities there, such as playing on the castle playground, in the tree house or on the choo-choo train!
Baby Ferris Wheel

Baby Ferris Wheel includes a cute Ferris wheel and a Toy Poodle Baby figure.
The Ferris wheel can seat up to three babies and can be turned by holding onto the handle and turning to spin the circular base. Can be placed on top of Baby Castle Nursery (sold separately). Have even more fun playing alongside Baby Airplane Ride (sold separately).
Baby Airplane Ride

Baby Airplane Ride includes a rotating two-plane ride and Maple Cat Baby. Baby Airplane Ride's airplane height can be adjusted up and down. The base of this fun ride is shaped like a cloud, and the top portion of the pole comes with a sun decoration, giving the impression of soaring in the sky above the clouds. Play alongside Baby Ferris Wheel, and create an amusement park for babies with plenty of fun rides (sold separately).
Nursery Friends

In this Nursery Friends set, the Hopscotch Rabbit baby, the Hazelnut Chipmunk baby and the Persian Cat baby are wearing adorable nursery clothes. Each baby wears an emblem in a different color, with matching shoes. The set also includes a set of small accessories that the babies can wear or carry: a hat, a drink bottle and a nursery school bag. Combine this set with other nursery sets such as Baby Castle Nursery and Sunshine Nursery Bus (all sold separately) for even more fun.
Baby Castle Nursery
This nursery looks just like a castle with flags flying on top. Babies can enjoy so many playground activities at the nursery! There is a piano, a swing, a slide, and a seesaw.
Change the layout of the Nursery by moving the floor to make the nursery room spacious, or create the front yard space as a playground.
Sunshine Nursery Bus
This is a double-decker nursery bus that has as many as twelve seats for the babies.
The seats reveal more fun suprises! Remove the first floor seats to reveal a baby pool, and the second floor seats convert into a slide or a seesaw.
Baby Tree House
This Luke Hazelnut Chipmunk loves to play in his Baby Tree House.
The Tree House includes a hammock, a slide, and a swing!
Baby Castle Playground
Grace Hopscotch Rabbit enjoys time at the Baby Castle Playground!
There is a lot of fun playground equipment everyone can enjoy, such as a slide, a ladder, and a sandbox!
Baby Choo-Choo Train
Jason Cuddle Bear loves to ride on the Baby Choo-Choo Train.
There is seating for up to two babies in the railway cars on the train!
Baby Collectibles
Baby Band Series
Baby Band Series baby figures are able to hold their instruments in their hands, so they can act out fun recitals.
Baby Shopping Series
Baby figure and a shopping accessory, which are fun to both collect and play with. What will you find inside? There are nine characters, including a secret one.